Becoming a home owner is still one of the biggest goals people have. It's also the fastest way to build wealth in America. If your goal is to become a homeowner in San Diego in 2017, here are a few tips to help make your dream come true.
Setting up an automatic savings plan that saves a small amount of every check is one of the best ways to save without thinking a lot about it.
Living within a budget now will help you save money for down payments and pay down other debts that might be holding you back.
Meeting with a realtor to get organized in the process can save you tons of time and money. A realtor can show you how organize your search so you can see the homes you most want. Additionally, being educated about the home buying process will put you far ahead when it comes time to make the purchase.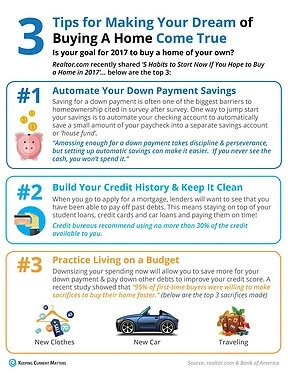 Contact us today for a free, no obligation home buyer's consultation!