The monthly market statistics for San Diego housing for the month of April are in. Despite many people thinking that San Diego home prices are heading for a down turn, April's numbers came in with an overall gain. San Diego is still one of the top places to live.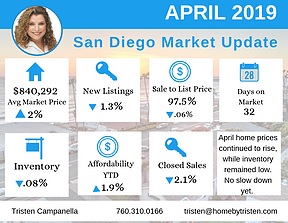 The San Diego housing market has a healthy demand, meaning investors will find conditions encouraging. As it stands, Zillow has already projected a 1.7% increase in housing prices over the next 12 months. Everything points to San Diego having an extremely healthy market that favors neither buyers nor sellers. Despite rapid appreciation, San Diego is heading in the right direction. The good news for buyers: Interest rates remain low and prices appear to be stabilizing.
Buyers are beginning to return in force this spring. For well-priced homes in desirable locations, competition is fierce. Although hiring and wage gains have been below expectations, the national unemployment rate held firm at 3.8 percent. A historically low unemployment rate can provide reassurance to wary consumers. But in order for sales to increase on a grand scale, buyers will need more spending power, or sellers will need to reduce prices to land where buyers are most active. Neither situation is likely to occur in 2019, and yet inventory is straining to keep pace in the most competitive price ranges.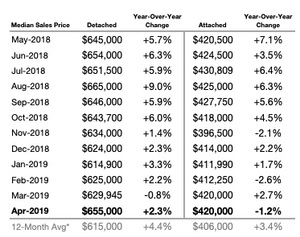 While some parts of San Diego have experienced a drop, such as North and South San Diego, East County and Metro San Diego are both strong markets. There are more homes coming on the market than we saw last year, so again, your home needs to be in ready to sell condition. Overall, we are seeing a stable housing market and employment sector.
San Diego always proves to be a solid investment for buying a home. It continues to grow moderately, which is the most stable way to grow, in the housing market. For more information or to read the detailed market report CLICK HERE.
All information is provided by the California Association of Realtors.
Tristen Campanella is a San Diego realtor, helping buyers and sellers understand the current market conditions and make wise real estate choices. Please reach out today with questions about the housing market!