With interest rates rising, the corresponding increase in mortgage rates is beginning to make itself felt in housing markets across the United States. While rising mortgage rates make borrowing more expensive and reduce affordability, they can also dampen demand by dissuading potential buyers from actively shopping for a home, according to the Mortgage Reports. The reduction in buyers can help loosen the squeeze on many housing markets' diminishing available inventory.
The California housing market is in a league of its own. However, many of the state's largest cities have seen a marked fall in home sales in 2022 versus 2021. Using housing data from Redfin, Forbes analyzed several of California's largest cities and the state of their housing markets in recent years. Read on to find out more about some of California's largest housing markets as 2022 unfolds.
The biggest change in the housing market is rising mortgage rates happening sooner in 2022 than expected.  While this may slow down the housing market, until inventory reaches a stable point, the demand is remaining high.  This continues to cause the supply demand problems that has plagued affordability in most of the U.S.
San Diego Housing Market 2022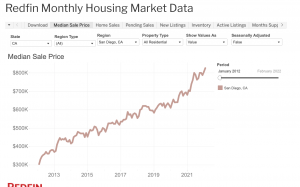 The San Diego housing market is hotter than that of Los Angeles. The median sale price in San Diego has risen by 17.2% in the last year, from $705,000 in February 2021 to $826,000 in February 2022. Housing inventory in the San Diego housing market fell by a greater percentage (45.3%) than in Los Angeles (41.3%) over the last year, going from 1,223 available homes in February 2021, down to 669 homes in February 2022. San Diego homes are getting bought up quickly this year, with the number of days on the market falling by 46.7%, from 15 days in February 2021 to 8 days in February 2022. San Diego's months of supply of homes is also dwindling, falling from 1.9 months in February 2020 to 1.1 months in February 2021, and then even further, to 0.7 months in February 2022. New listings in San Diego also declined over the last year, but not at the rate of the Los Angeles housing market: 9.7% year-over-year in San Diego versus 15% in Los Angeles.
Despite high home prices, the risk of [national] home price decline over the next 12-month period remains low due to the low unemployment rate, in-migration of population with higher incomes, and a low debt service ratio. Mortgage debt service payment as a percent of disposable personal income is at the lowest rate going back to at least 1980