Housing bubble 2021. Housing Market Predictions 2022.
What's up with the housing market this week?
When we are looking at the health of the housing market we are looking at how high prices are going and how the mortgage industry doing.  Home buyers, there is some hope in sight!
Housing is Still Competitive
Housing data shows home sales and prices continue to normalize in an extremely competitive environment. However, a resurgence of COVID-19 across the state has increased uncertainty about the broader economy moving forward and could be muting the recent uptick in new listings as public health concerns return to the fore for would-be home sellers. REALTOR® optimism in California has also moderated in recent weeks. Still, home sales remain above pre-crisis levels and buyer demand remains strong—even as the level continues to normalize after reaching 15-year highs last winter.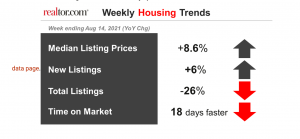 New listings–a measure of sellers putting homes up for sale–was up 6 percent.  More homeowners continue to list homes for sale compared to a year ago. We've seen this trend in 18 of the last 21 weeks. Notably, while new listings continue to lag behind a more 'normal' 2019 pace, the gap is shrinking. By later this year we could see more homes coming up for sale than we saw in 2019. Even though homes continue to sell quickly thanks to high demand and limited supply, new listings are subtly shifting the balance of market conditions in favor of buyers

Mortgage Applications Rise, but only slightly
Mortgage Applications Rise, But Still Falling on Year-Over Basis: The number of new purchase applications increased last week for the first time in 4 weeks. That follows a brief reduction in rates the previous week to levels not seen since early February. However, applications are still down 18% from where they were during the first week of August in 2020. That increases the streak of consecutive year-to-year declines in new mortgage applications to 12 weeks, but demand remains above 2019 levels even if the intensity of demand has eased slightly from the start of the year.
Interest Rates Could Tick Up.
Interest Rates Increase After Falling to 5-Month Low: Freddie Mac reported that the typical rate on a 30-year fixed-rate mortgage increased to 2.87% last week from 2.77% the previous week. This coincides with a slight uptick in 10-year Treasuries, which rose to 1.34% last week. However, daily rates show that interest rates are still relatively stable. In addition, recent concerns about future economic growth and increasing signs that the current bout of inflation could prove transitory in nature both suggest the Fed may be less aggressive on normalizing rates than initially expected.
Meet Tristen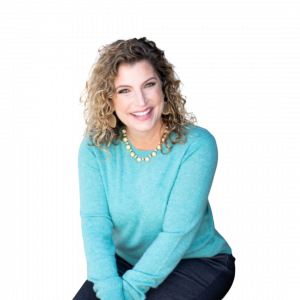 Top 5% of San Diego Realtors, Tristen lives in North County San Diego and sells homes throughout all of San Diego. She is a mother of a big, blended family of 5 and an golden retriever named Brady.
Through hundreds of successful sales, Tristen knows the housing market in San Diego and understands how to help you position yourself to be successful to make your dreams come true.  Let's Talk – 760-310-0166 or CONTACT ME