In the last week price reductions are UP 35% in San Diego.  Is this an indication that the housing market is slowing down?
San Diego's housing market has experienced 114 months of rising prices and incredibly low inventory.  This is the first time we are seeing a large amount of price increases.  This indicates the housing market is shifting more towards normal pricing instead of what many people would consider unsustainable prices.
According to Fortune.com Since bottoming out this spring, the number of U.S. homes for sale is up 31%. That has coincided with a 20% drop in the share of sales that involve bidding wars and a leveling off in the rate of home appreciation. The data is pretty clear: The housing market is slowing.
That said, don't mistake this softening for a correction. Even given some recent cooling, the housing market is still fairly strong.
Price appreciation has an impact on housing affordability, higher home prices should encourage more sellers to list their homes for sale, slowing the rate of appreciation. The normalization of the market and modest improvement in housing inventory over the past few months have created an opportunity for homebuyers who had avoided the highly competitive housing market that had prevailed for much of the previous year to seize the opportunity.
Since the onset of the pandemic, median list prices are up a staggering 23% on realtor.com. That level of price growth, which far exceeds most Americans' annual pay raises, just isn't sustainable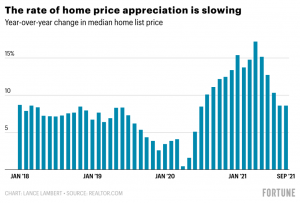 Why are prices expected to continue growing?
It's very simple economics: Demand continues to outmatch supply. The former took off during the pandemic as workers took advantage of recession-spurred low mortgage rates and their increased remote flexibility to buy homes further out in the 'burbs. The pandemic has also coincided with the largest tranche of millennials (in particular, those born 1989 through 1993) beginning to hit their 30s—typically the big first-time home-buying years. All of this increased demand is why inventory dried up during the pandemic. Between April 2020 and April 2021, inventory of homes for sale on realtor.com fell 53%. While that has improved recently, we're still pretty close to a 40-year low in inventory.
But that doesn't mean the housing market is free of risk. The biggest unknown comes from mortgage rates. The average 30-year fixed mortgage rate of 3% is expected to rise in the coming years. But inflation fears could cause the Federal Reserve to raise rates sooner than expected. That would, of course, negatively impact the housing market.
Then there's mortgage forbearance, which began its long-awaited wind down on Sept. 30. As a result, over the coming year more than 1.5 million homeowners will have to restart paying their mortgages. Some won't be able to, and they'll have to put their homes up for sale. Zillow estimates that around 25% of those 1.5 million borrowers will eventually list their home. That's expected to cause additional slowing in price appreciation.
The Number of Homes for Sale Usually Peaks in the Fall
In the residential real estate market, trends generally follow a predictable and seasonal pattern. Typically, the number of homes available for sale (or active monthly listings) peaks in the fall. But in a chapter where so little feels normal, the question becomes: should we expect a fall peak this year?
If we look at the active monthly listings for 2021 (shown in the chart below), we'll see that the number of homes on the market has increased fairly steadily since spring this year. The realtor.com data shows we're still seeing an increase in active inventory month-over-month. While that gain is a bit smaller month-to-month (see August to September in the chart), September numbers are still up from the month prior.
The important takeaway here is the latest monthly numbers show growth. At the end of September, buyers had more options to pick from than they did this spring. That's encouraging for buyers who may have paused their search months ago because they had trouble finding a home. Danielle Hale, Chief Economist at realtor.com, sums this up nicely:
"Put simply, this September buyers had more options than they've had all year and while that's typical of early fall, that's not what happened in 2020. Still, it's important to remember that while buyers may have an easier time this fall than they did in the spring, the market remains more competitive than it has been historically at this time of year." 
What Does That Mean for You?
If you're thinking of buying a home, rest assured you do have more options now than you did earlier this year – and that's a welcome relief. That said, today's market is still highly competitive. This isn't the time to slow your search. It's actually the season when the number of homes available for sale tends to peak. Focus on the additional options with renewed energy this season and be prepared for ongoing competition from other buyers.
If you're considering selling your house, realize that while growing, inventory is still low. Selling now means you'll be in a great position to negotiate with buyers – and competition among buyers is good news for your bottom line. Eager buyers will likely be motivated to act before the holidays, giving you the benefit of a fast sale.
Whether you're buying or selling, there's still a chance to make your goals a reality this season.
Let's connect so we can discuss what's going on with the local market and current trends and what they mean for you.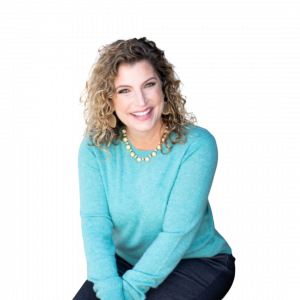 Tristen Campanella is a top producing San Diego Realtor with a focus on North County.  My team and I served over HUNDREDS OF families across San Diego County. More importantly we have maintained a 100% client satisfaction rating for over a decade. When you work with a Local Escondido Realtor who focuses on North County San Diego – you can expect honesty, integrity and dedication from the start.  It's never too early to start a conversation about your real estate goals.  Reach out today! TEXT 760-310-0166