Over all January continues to hit record numbers in the housing market in San Diego, California, and nationwide
Quick Overview:
Overall Housing Market for January 2021
Forbearance
Which price point of homes sold the fastest
Will Interest rates stay low for 2021
Low Inventory for 2021
Is now a good time to buy a home in San Diego?
Is now a good time to sell a home in San Diego?
Overall Housing Market for January 2021
January started off strong for the housing market, with healthy buyer demand and strong market fundamentals. A robust increase in housing starts in December points to an active year for new construction, but higher material costs, especially lumber, and a limited supply of buildable lots will temper the number of new units. Closed Sales increased 0.6 percent for Detached homes but decreased 1.9 percent for Attached homes. Pending Sales decreased 1.3 percent for Detached homes and 0.6 percent for Attached homes. The Median Sales Price was up 12.7 percent to $800,000 for Detached homes and 11.7 percent to $537,250 for Attached homes. Days on Market decreased 54.2 percent for Detached homes and 48.8 percent for Attached homes. Supply decreased 66.7 percent for Detached homes and 61.1 percent for Attached homes.
Zillow currently lists the current market temperature as "neutral" with the median San Diego home value holding at $637,900. However, the average price of homes sold in the area is $602,400. Despite that, the average listing price is far higher at $699,877. That means there is a considerable gap between what sellers are offering and what buyers are buying.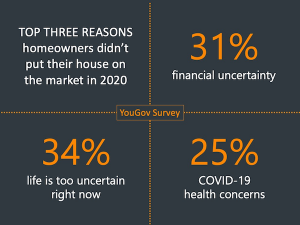 Mortgage Rates
Interest rates are something certainly that all of us are wondering about and talking about. This is the latest look of projections from Freddie Mac on the 30-year fixed. And as we've talked about before, the orange there shows where we've been. Blue showing where we're going. And what's different this time? It used to be flat. Experts agree we are going to stay in this flat environment.
I would expect as we go through the year, maybe seeing it revised up even more as the economy starts to improve. But the reality right now is that we are forecasting and by looking at experts, that we're going to be in a good rate environment in 2021. Certainly, in the low threes, whether that's 3.2%, 3.5% or
How to buy a home in San Diego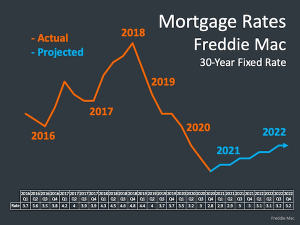 Historically speaking, as we can see here, in a very advantageous interest rate market going forth this year. And that's going to cause more people to say, now is the time. But certainly, there are those of us, even in our industry who think rates are going to rise and that's going to squelch demand. No doubt affordability will be eaten into as rates rise and as prices rise, and houses.
Mark Fleming said this, "Rising interest rates reduce house buying power and affordability,"
But here's the key, "but are often a sign of a strong economy, which increases home buyer demand. By any historic standard, today's mortgage rates remain historically low and will continue to boost house buying power and keep purchase demand robust."
Low Inventory for 2021
Chief Economist at Zonda, a trusted source for information says this: "Some people will feel comfortable listing their home in the first half of 2021." So, as we get into this year and people are more optimistic with regard to vaccines, things that are improving, they're going to feel comfortable listing. "Others," she says, "will want to wait until the vaccines are widely distributed." This suggests more inventory will be for sale in late 2021 and into the spring selling season of 2022.
Going all the way back to 1982, we're at the lowest point that we've tracked active inventory. To put real numbers to this, there are about 320,000 less homes on the market today than there were at this time a year ago.
More inventory is going to come back to market as people feel more comfortable. Does it mean it's not going to happen on the front end of this year? She says some people will feel comfortable listing on the front half of this year. Probably more in the second half of the year, and then even going into the spring of next year we'll see even more feel comfortable for that. So that's where those numbers come from. Forecasters are saying, we're going to sell 5% more homes this year than we did in the prior year. And last year we sold more than the year before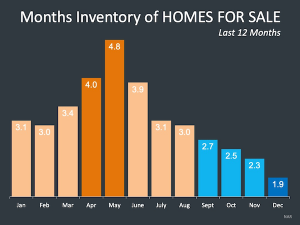 Is now a good time to buy a home in San Diego?
In NAR's Housing Affordability Index, if you remember this. The index, the higher it is, the more affordable a home is. And where do we sit today? We sit at 168.2, the blue bar here in the housing affordability index. We always reference the years when distressed properties dominated the market. And it's extreme affordability. People think well, homes aren't as affordable as they were ten years ago. Well, there's an element of truth to that, absolutely. But let's not miss the fact that we're more affordable today than we were in the last couple of years in the housing crisis. And way more affordable than 2008 and prior.
Remember that there's a difference between housing affordability and affordable housing. Two different things. And I know there's some areas where there's no affordable housing, and that's true. That's a different issue than overall housing affordability in this country.
Search for a home in San Diego
Is now a good time to sell a home in San Diego? The answer is a huge YES!
According to US News, While the low rates are promising for an affordable mortgage, there are not enough properties on the market compared to the number of shopping buyers. Expect rising home prices to balance out low rates, at least in part. "Unfortunately, the record low supply combined with strong demand means home prices are rapidly escalating and eroding the benefits of the low mortgage rate environment," Sam Khater, chief economist for Freddie Mac, said in a press release discussing the drop in mortgage rates. Especially if you live in a place where home prices are climbing fast and bidding wars are common, homes at entry-level prices – often purchased by first-time homebuyers – are likely to see plenty of buyer activity through the rest of the year.
Discover if now is the right time to sell your home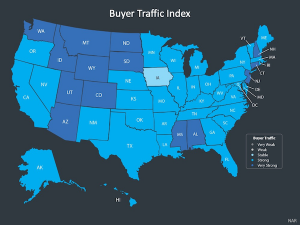 The price range that's considered entry level depends on where you live – typically it's considered the lower third of home sale prices for an area. Danielle Hale, chief economist for realtor.com, explains that the lack of available homes on the market creates opportunities for sellers to benefit from eager buyers, possible multiple purchase offers and rising prices.
Thinking about selling? Learn the 10 things you must do to sell your home for more.
Each month C.A.R. surveys 1,000 California consumers regarding their sentiments about various aspects of the housing market or the economy that directly impact housing to create a California Housing Sentiment Index. With the drop of housing sentiment from 80 to 74, Californians are more pessimistic about the market since CAR's last report. Here's what consumers feel at this time.
Is it a good time to buy a home in California?
C.A.R.'s monthly Consumer Housing Sentiment Index for January 2021 found that 25% of consumers believe that now is the time to buy, and 75% think this is not a good time to buy. That's down 2% from December 2020. The California housing market sentiment also shows that 40% of the consumers feel that it will be easier to find a home over the next twelve months. That's up 3% from December 2020.
Is it a good time to sell a home in California?
59% of Californians in the survey think this is a good time to sell a house. That's an increase of 4% over the December 2020 poll. Almost half of the consumers (51%) who participated in the survey feel that home prices will rise in the 12 months. That's again up 2% from December 2020. However, not many people feel positive about the economic recovery. Only 32% believe that economic conditions will improve in the state over the course of the next 12 months while 68% have a negative outlook.
See Homes for Sale in San Diego
Referenced reports