Mass Exposure + Digital Marketing San Diego
---
Are You Thinking About Selling Your San Diego, CA House? You're in the right place. We Use 21st Century Digital Marketing Techniques to Sell Your Home Quickly, for More Money, and for the Best Terms.
We absolutely love what we do and we pride ourselves on integrity, service and a long list of satisfied clients. We offer 100% satisfaction guaranteed or the Right to Cancel to all of our clients – as we are that confident in the services we provide. On this page, we'll touch on the marketing aspects of selling your home, and it will give you a very detailed approach to the marketing we offer and the outcome you get from it.
Please understand, we take our business very seriously, and we are passionate about what we do. Our goal is to have you walk away trusting that we will be your go-to Real Estate Professional for life. As other agents grow frustrated with the surge of technology, we here at Home By Tristen embrace it, educate ourselves regularly, and implement what we learn. We thrive on giving our clients what, unfortunately, most agents fail to. We run our business like a business, not a part-time hobby. It's a full-time career for us, and we dedicate 100% of our time and energy ensuring that we are thoroughly knowledgeable not only in Real Estate and the current market changes, but also recognize the innovation, technology, and digital marketing trends. Tristen is being recognized in the Top 5% of Real Estate Agents in San Diego! If you are looking for a real estate professional you can trust to act on your behalf, provide impeccable services and who has personally negotiated and closed just under two thousand transactions, then look NO further! Selling your home is one of the largest financial investments that you will ever make. Please let us assure you that while selling your home, your personal and financial interests are our main objective. Our goal is to make the sale of your home as seamless as possible. We guarantee it!
Thank you!
We look forward to working with you.
– The Team at Home By Tristen!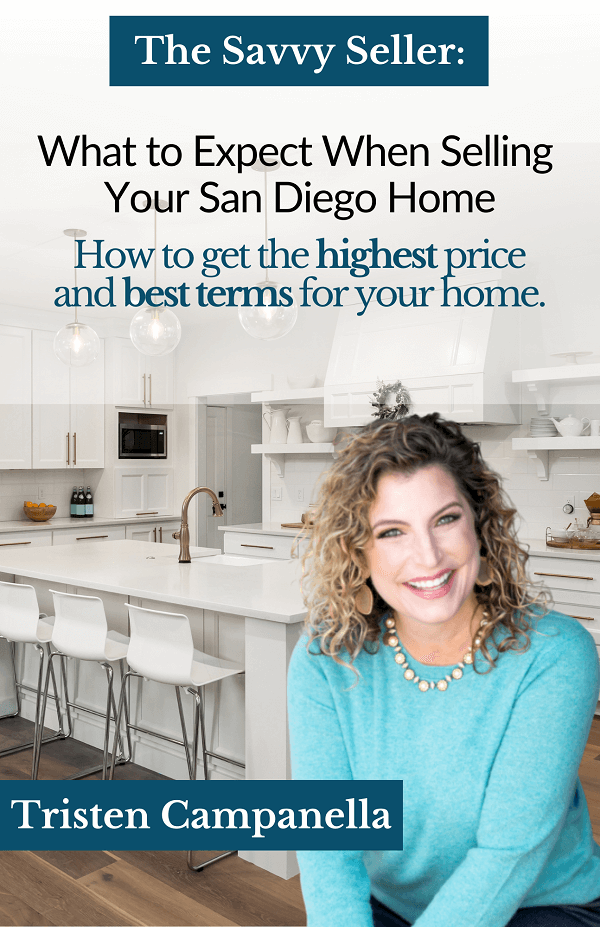 Want a FREE copy of our Savvy Seller Book?
Getting Your Home Prepped and Ready to Hit the Market
---
Creating the marketing hype for your home –
We assure that your home is ready and presented in a manner that will create the "hype" about your home. The more we do prior to putting your home on the market will assure you receive top dollar for your property as well as ensure we know and take care of any issues that can become problematic during the escrow process. We become aware of any potential issue that could possibly affect your bottom line so that there are no "surprises" down the road.
We have a comprehensive list of resource specialists, tradesmen, and subcontractors that can do anything and everything for you to help this process become as seamless as possible (any work requested needed or requested will be an additional cost). We provide a staging consultation to ensure your property is shown to the absolute best of its ability to help you end up with more offers, better terms and a higher price for your home!
Just ask us for a list of anything you need! We can provide an all-inclusive service to help to organize and maintaining any project you need including but not limited to; staging, window cleaning, gardener, painter, handyman, landscaper, specialized tradesmen, electrician, termite inspector, home inspector, appraiser and much more!
We go above and beyond to sell your East County area house fast and charge a reasonable and straightforward commission.
We go the extra mile to get the best price for your home! Our services set us apart from other realty companies.
---
Client Care & Communication
We'll be your partner as we work together to get you the best price in a timely fashion. We're confident we can earn your trust and our policy is:
You can cancel at any time if you aren't 100% Satisfied with our work!
As your partner, we offer our expertise to help you make good decisions about the sale of your home and avoid costly mistakes. It starts with making sure your home is presented to its best advantage:

3D Virtual Tours showcase beyond your standard 360 tour

Floor Plans and measurements both inside and outside

In-depth analysis and expert advice on pricing strategy for optimal results

Free consultation with professional Home Designer / Stager

Free basic staging with Professional Home Designer/ Stager

Professional staging services as needed to attract buyers (optional full staging available at extra charge)

Free Digital Marketing Specialist to maximize online presence

Checklist of recommended changes to your home to ensure optimal pricing

List of reputable vendors for any work required

Meeting with Marketing Specialist to identify your home's upgrades and features that you as the

homeowner find important

Synched lock box to track Realtor showings and elicit feedback the next business day, which is

then sent to you to keep you in the loop

While we market your home, we know you want to be informed and involved. To keep communications flowing, we'll:

Send a report on our marketing efforts and results twice per week

Inform you of any market changes, mortgage rate fluctuations, sales trends, absorption rate, or any

other factors that may affect the value or marketability of your home

Provide you marketing materials to share with your neighbors, connections and on your personal

Facebook page and other social media sources (Twitter, LinkedIn, Instagram, etc.)
High-Quality Marketing Materials
---
The quality of marketing materials representing your home have a huge impact on how it is perceived in the marketplace. To position your home in its best light, we provide:
Professional photographer to capture interior and exterior images

Professional videography to create a high definition 2 to 4-minute virtual property tour with description of your home

A high quality, full color four-page brochure featuring your home

An individual property website which includes:

printable brochures
photo gallery
virtual tour

property map

reports for out-of-town buyers showing nearby amenities, school scores and distance, community information, city demographics, and a "contact me" button

Luxurious lawn sign with solar lighting, our highly recognizable Homes by Krista logo, and a customized texting feature directed to your home's website

Search engine optimization (SEO) of all marketing materials by Digital Marketing Specialist for maximum online exposure

All materials cell phone compatible (91% of buyers use cell phones in their home search)

Online mortgage calculator to help buyers decide if they can afford to purchase your property (website and mobile app)
Start your home journey today!
Feel free to reach out! We would love to chat about your home goals.