The Federal Housing Administration (FHA) increased its mortgage loan limits for single-family homes in 2022, which will allow borrowers with lower credit scores to take out a higher loan amount. For homebuyers, this means they can qualify for higher-priced homes using an FHA loan, and homeowners can refinance their current mortgages for larger amounts.
WHAT IS AN FHA LOAN?
FHA loans, a type of mortgage guaranteed by the Federal Housing Administration, have limits on how much homeowners can borrow. If you want to buy a home using an FHA loan, you won't be able to buy a turnkey mansion: FHA loan limits are based on a percentage of the median home price in each county.
The government guarantee on these mortgages is designed to help low- to moderate-income borrowers who might otherwise be shut out of the housing market, but it isn't supposed to put taxpayers on the hook for extravagant purchases. This guarantee can make FHA loans pricey: Borrowers have to pay upfront mortgage insurance, as well as monthly mortgage insurance premiums—potentially for the life of the loan.- but most likely you will be able to refiancce out of this within 2 years.
Some FHA loan requirements include:
A credit score of at least 580 for a 3.5% down payment
A credit score of 500 to 579 for a 10% down payment
A debt-to-income ratio of less than 43%
CONVENTIONAL LOAN VS. FHA LOAN
First, why would you get an FHA loan vs a conventional loan?  The FHA loan is a government backed loan designed for home buyers who have less money to put for a down payment and you can also have lower credit scores, sometimes as low at 580.  Because FHA loans are backed by the government and Conventional loans are not, the qualifications for each loan type look different.
Generally, FHA loans are easier to qualify for. They allow for lower income, lower credit scores, and a higher debt-to-income ratio (meaning they allow you to carry more debt relative to your income). The tradeoff for FHA loans is that they therefore carry slightly higher mortgage insurance premiums to offset risks.
Conventional loans, on the other hand, tend to be slightly more strict in their qualifications. They require slightly higher income thresholds, slightly better credit (, and slightly lower debt-to-income ratios. The benefit for borrowers who meet these tighter requirements, however, is lower (or, in some cases, no) insurance premiums on the loan.-FHA loans, require a Mortgage Insurance Premium (MIP).
This is broken up into two parts: A single up-front premium (Up-Front Mortgage Insurance Premium, or UFMIP), which is always 1.75% of the loan amount regardless of qualification factors; and an annual MIP payment that is built into your monthly mortgage payment and is based on the amount of your initial down payment. For example, if your down payment was between 3.5% and 5%, your annual MIP would be 0.85% of the loan amount divided into 12 monthly installments; whereas if your down payment was greater than 5%, you would pay 0.80% of the loan amount divided into 12 monthly installments.
FHA loan limits are set at the county level. You cannot borrow up to the limit just because you're getting an FHA loan, however. You can only borrow as much as you're qualified to based on your income, credit and other factors lenders evaluate to determine whether you can afford to repay the mortgage you're applying for. The loan amount also cannot exceed 100% of the property's appraised value.
What can you buy with a FHA Loan? If you want to use an FHA loan to buy a duplex, the limit will be higher than if you want to use an FHA loan to buy a single-family house. And you can, in fact, use an FHA loan to buy a multi-unit property, up to four units, as long as you live in one of the units as your primary residence.
NEW LOAN LIMITS
Ok, so here's the really good news for home buyers in 2022…the FHA loan limits are going up by a lot!!!  In 2021 the loan limits for San Diego  county are $753,250.  In 2022 this limit is going up to $879,000! That's a HUGE jump.   The increase in loan limits, commensurate with the increase in home prices, will allow qualified individuals and families to continue to access FHA-insured mortgages to achieve affordable home financing This means you can still get this loan at only 3.5% down and be able to compete with the rising home prices. Rising loan limits let a wider group of borrowers qualify for the loans backed by Fannie and Freddie. Because the market for jumbo loans is smaller than the market for conforming loans, jumbo borrowers might need to shop around a bit more to find a mortgage.
HOW MUCH SHOULD YOU BORROW?
So, the next question is should you borrow that much…well that is up to you.  It is important that you review your budget and find a mortgage that fits in your life.  One thing to think about is if you are in your early thirties, the odds that you will make more money as you move into your 40's is fairly high.  So, you could decide to push the amount of your housing payment a little in anticipation for this…but, being house poor is not always the most fun thing for sure.  I've been there.  So really review what you are comfortable paying every month.  Remember your housing payment is not ONLY your principal and interest it is also your property taxes and insurance and if you have mortgage insurance you will need to calculate that.  I usually recommend estimating a slightly higher interest rate too as we are expecting them to go up in 2022.
Last week, the average 30-year fixed mortgage rate from Freddie Mac inched up to 3.1%, and experts project rates will continue rising through 2022: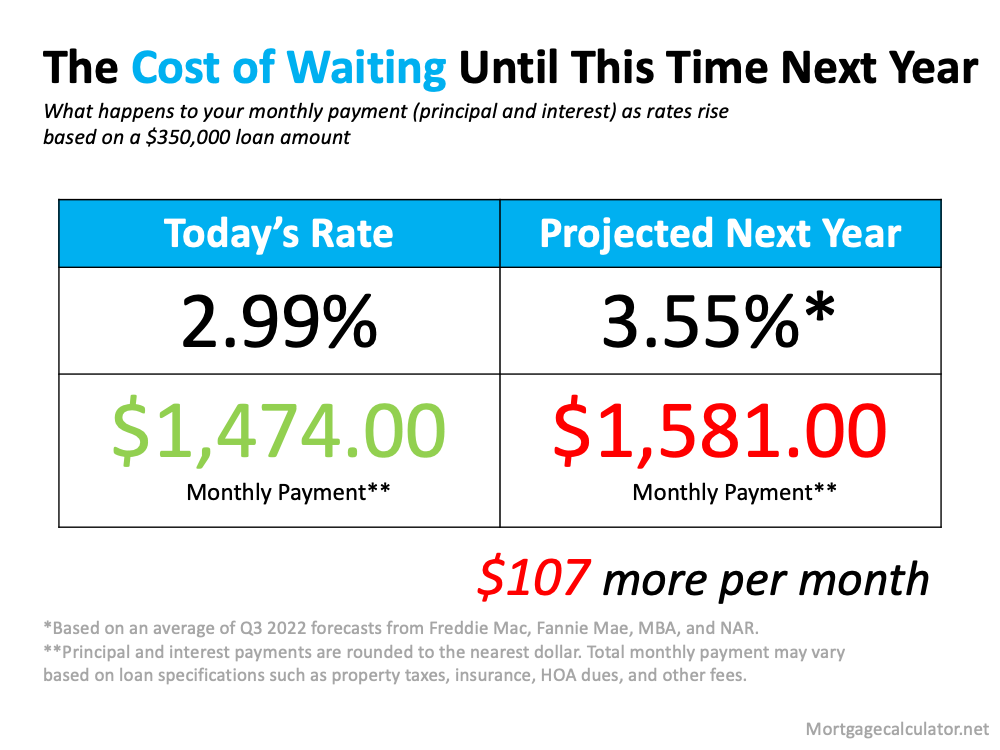 Mortgage rates play a significant role in your home search. As rates go up, your monthly mortgage payment increases if you're buying a home, directly affecting how much you can afford. And even the smallest increase can have a large impact on your monthly payment You'll pay more in mortgage payments each month if both variables increase. Let's assume you purchase a $350,000home this year with a 30-year fixed-rate loan at 2.86% after making a 10% down payment. According to the mortgage calculator from Smart Asset, your monthly mortgage payment (including principal and interest payments, and estimated home insurance, taxes in your area, and other fees) would be approximately $1,899.
That same home could cost $371,945 by the end of 2022, and the mortgage rate could be 3.7% (based on the industry forecasts mentioned above). Your monthly mortgage payment, after putting down 10%, would increase to $2,166.
If you buy a house in San Diego at the current FHA Loan limit of 753,000 at todays interest rate of 3.22% your mortgage payment would be: 3206 with mortgage insurance of 647.  If you go to the max next year at 879,000 3739 with MI of 755.   To get rid of Mortgage insurance you need to put at lease 10% down, but at low interest rates sometimes it makes sense to borrow other peoples money and keep your money in the bank.
Check out this FHA LOAN Calculator https://themortgagereports.com/fha-loan-calculator