San Diego home sales of previously owned single-family homes and attached properties like condominiums and townhomes ticked up last month after three straight months of double-digit losses, according to data released Thursday by the Greater San Diego Association of Realtors.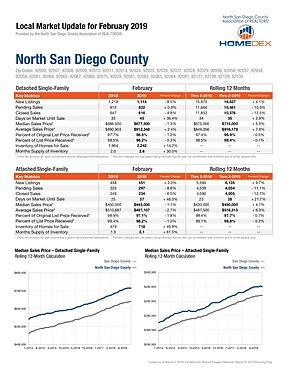 Monthly sales of single-family homes jumped 4.4 percent from 1,193 in January to 1,246 in February. Month-over-month sales of attached properties increased even more, a 14 percent jump from 559 in January to 637 in February. It was the first monthly increase since October 2018.
Month-over-month median home prices continued to hover around where they've been over the last year. Single-family home prices increased 2.4 percent from $615,000 in January to $630,000 last month. Median attached property prices only rose $1,500 and 0.4 percent, from $413,500 to $415,000 last month.
"The housing market has proven to be resilient despite predictions of a tougher year for the industry," SDAR President Kevin Burke said. "I'm particularly encouraged by the double-digit increase in the number of homes on the market in San Diego compared to last year."
While sales ticked up, they remain more than 10 percent under last year's figures. Local Realtors sold 1,434 single-family homes in February 2018, but only 1,246 last month, a 13.1 percent decline. Attached property sales fell by 18.1 percent, from 778 in February 2018 to 637 last month.
Year-over-year median pricing for single-family homes ticked up while attached property prices dipped slightly. Single-family home prices rose 3.1 percent from $610,999 last year to $630,000 last month while attached property prices fell 1.9 percent from $423,250 in February 2018 to $415,000 last month.
Local Realtors sold 36 single-family homes in southern San Marcos last month, the most of any zip code in the county.
March's take away – the San Diego Housing Market is continuing to stabilize in pricing and inventory to a "normal" market. As inventory continues to increase, buyers have more choices, so sellers must price their homes correctly and use all available marketing resources to their advantage. Home staging, painting and curb appeal will be important as home buyers in San Diego have more choices.
Home owners in San Diego should expect to see very moderate gains this year in comparison to the last 3 years.
Would you like a FREE copy of the full report?
Thinking of selling a home?
CLICK HERE to Get a FREE, No obligation, in-home assessment of your home today!