*Prices will not rise nearly as fast as 2018
*Prices predicted to continue to rise at roughly 2% annually
*Interest Rates will continue to rise
*Slow down allows income to catch up with appreciation
*Inventory will normalize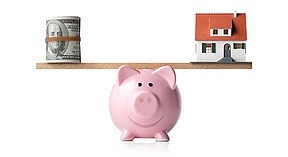 The medium and long-term prospects for housing are good because demographics are going to continue to support demand," he said. "With a slower price appreciation, incomes have an opportunity to catch up. With slower sales, inventory has an opportunity to normalize. A slowdown in 2019 creates a healthier housing market going forward."
There's no doubt about it: the 2018 housing market has seen its ups and downs. The year started with sky-high home prices, historically low mortgage rates and a definitive upper hand for sellers. In recent months though, home price growth has faltered, rates have risen to their highest point in nearly eight years, and favor has started to shift from seller to buyer.
Will these trends continue?
Will housing experience the same wild ride in the new year? According to Forbes and Realtor.com mortgage rates will continue rising.
"Despite steady climbing for the past two years, mortgage rates remain lower than they were during most of the recession and below average for the type of strong economic growth we've been experiencing. That will change in 2019, as the 30-year, fixed rate mortgage reaches 5.8% — territory not seen since the dark days of 2008 when rates were racing downward in response to the housing crisis." — Aaron Terrazas, director of economic research for Zillow
Millennials will keep buying homes — despite those rising rates.
'The housing market in 2019 will be characterized by continued rising mortgage rates and surging millennial demand. Rising rates, by making housing less affordable, will likely deter certain potential homebuyers from the market. On the other hand, the largest cohort of millennials will be turning 29 next year, entering peak household formation and home-buying age, and contributing to the increase in first-time buyer demand." — Odeta Kushi, senior economist for First American
"Millennials will continue to make up the largest segment of buyers next year, accounting for 45% of mortgages, compared to 17% of Boomers, and 37% of Gen Xers. While first-time buyers will struggle next year, older Millennial move-up buyers will have more options in the mid-to upper-tier price point and will make up the majority of Millennials who close in 2019. Looking forward, 2020 is expected to be the peak Millennial home buying year with the largest cohort of millennials turning 30 years old. Millennials are also likely to make up the largest share of home buyers for the next decade as their housing needs adjust over time." — Danielle Hale, chief economist for Realtor.com
Home buying power will decrease, but that could be a good thing.
"Most homebuyers budget a monthly payment. As rates rise, a fixed monthly payment translates into less borrowing capacity and buying power is down about 10% since the same time last year. As there are less buyers at each price point, the appropriate market response is a slowdown in sales and an easing in price momentum." — Tendayi Kapfidze, chief economist for LendingTree
Overall home sales will decline
"As we look toward 2019, we are anticipating home sales to decline around 2%. We're expecting it to be another slightly slower year as buyers continue to wrangle with higher mortgage rates after contending with several years of rapid price growth." — Ruben Gonzalez, chief economist at Keller Williams
Inventory troubles will ease — not too much, though.
"The wave of first-time home buyer demand will be met by somewhat higher inventory levels than in 2018. However, while the days of multiple offers and bidding wars may be history in some markets where inventory is increasing, inventory will likely still remain tight nationally through 2019.' — Kushi
"In the majority of markets, the number of homes being put on the market or newly constructed has increased slightly, while the pace of sales has slowed slightly, which has helped stop the inventory decline. But the inventory increases or slowing price increases necessary for a more widespread sales gain are not forecasted to happen in 2019. While the situation is not getting worse for buyers, it's also not improving notably in the majority of markets." — Hale
Home price growth will continue to slow.
"Right now, for 2019, we believe home price appreciation will likely slow to near 3%. This is based on the assumption that the recent pattern of increasing inventory levels will be sustained in the upcoming year."— Gonzalez
Buyers will see less competition, but that might not help first-timers.
"Buyers who are able to stay in the market will find less competition as more buyers are priced out but feel an increased sense of urgency to close before it gets even more expensive. Their largest struggle next year will be reconciling wants, needs and budget versus the heavy competition of 2018. Although the number of homes for sale is increasing, which is an improvement for buyers, the majority of new inventory is focused in the mid- to higher-end price tier, not entry-level." — Danielle Hale, Realtor.com
National rents will rise, but apartment construction could ease renters' pains.
"As higher rates limit the number of homes that potential buyers can afford, some would-be buyers will be too financially stretched to buy and will continue renting. As a result, recent (and very slight) s in rent will reverse and turn positive again. The shift will be muted, however, by continued steady investment in apartment construction, which will prevent rent growth from shooting too far above income growth." — Terrazas
The Moral of the Story
All in all, housing is set for a slow-down next year, but as Kapfidze explained, that's not necessarily a bad thing.
"The medium and long-term prospects for housing are good because demographics are going to continue to support demand," he said. "With a slower price appreciation, incomes have an opportunity to catch up. With slower sales, inventory has an opportunity to normalize. A slowdown in 2019 creates a healthier housing market going forward."
Got questions? I'm always happy to help! Email or text me