The San Diego Housing Market July 2020
Months into the global pandemic has changed the way we are all looking at our homes and the housing market in San Diego. In this post, I'm going to address several key factors such as current unemployment, the median price of homes, the impact of COVID on inventory, and mortgage rates.
Unemployment Numbers
As the Bureau of Labor Statistics reported it, we ended up in June with 11.1 percent unemployment. The story really here is that unemployment went up in March and April, and has come down in May and June. Certainly, we want to see that trend continue in unemployment. More and more people are going back to work as they can go back safely and get back to the work that they do. As we break down this 11.1 percent unemployment, it's important to remember that as 11.1 percent of the people are unemployed that stills mean 88.9, almost 89 percent of those out there in the world are employed. Nine out of ten almost that have a job, can transact, and do things.
One of the biggest shifts in this unemployment report is the number of people that are now reporting this is a permanent unemployment versus temporary. I think the Wall Street Journal summed this up probably best when they say, "U.S. job growth surged last month underscoring the economy's capacity for a quick rebound. If businesses continue to reopen, consumers regain confidence." They go onto say, "A recent coronavirus spike, however, could undermine the trends captured in the latest job reports."
As we start to look at this, it brings up a lot of questions. How is unemployment going to affect the overall economy? How's it going to affect our business? It brings a lot of questions… are we about to see a wave of foreclosures? Of all the active forbearances, meaning those that have paused their mortgage payments due to financial hardships and unemployment, which are past due on their mortgage payment, 77 percent have at least 20 percent equity in their home.
Think about it. If you had a $400,000 home and you were in a situation where you couldn't make the payment, and you had 20 percent equity in that home, that's $80,000. You would go out and sell that home before you'd allow it to go into foreclosure. I think applying that common sense to that equation is what we have to do today and back it up by the data.
Lending Tree that says, "Eighty-seven percent of home sellers are concerned their home won't sell because of the pandemic and resulting economic recession." That's a big number. A lot of home sellers saying, "I'm concerned about what's going on out there and afraid that my home won't sell," and yet 372,000 homes were sold in the U.S. last month. The data shows this is simply not true. In fact home buyer demand is up significantly, as I will discuss further on.
Home Buyer Demand
If we look at showing times, people continue to get back out there and look at homes. Whether in-person or virtually, depending on where they're at. As we saw this spike up in the months after we bottomed-out in April. We see the housing market starting a recovery. We know people are going out and looking at homes. And then even as we add in Zillow's information here that newly pending sales are up 18.8 percent month-over-month and listings taken are up 5.2 percent month-over-month. But here's the interesting thing. Total listings are down year-over-year. A little over 20 percent. And new listings taken are down 16.6 percent year-over-year. So as there's activity coming back in the market, there just isn't the available inventory in the market for those that want to purchase a home.
Inventory
Now let's talk about supply and demand, and how that's working in the market. Buyers are saying, "Hey, the reasons we had for moving, the reasons we had for buying a new home have not changed." We are at an all time low in listings, therefore, buyers are purchasing the listings that do come to market quickly.
Home Price Predictions
As we look forward, what's going to happen with the pricing of homes this year? You can see here on the graph of experts predictions, only one out of 5 experts predict home prices are in a slight decline. The five others are predicting increases in home prices over the next three years. As we go into 2021 and 2022, we see appreciation across both of those years.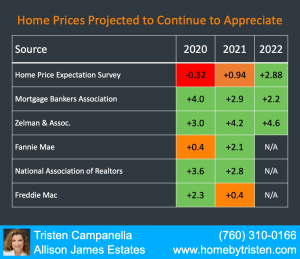 This is being driven by supply inventory and demand. The number of people coming out that want to buy homes. Ivy Zelman in their broker report says, "The severity of inventory tightness should remain a relative benefit to home prices." So, that upward pressure on pricing. "But it's also a risk factor to the degree of rebound in unit sales going forward." We know that lack of supply is keeping upward pressure on prices. The pricing of homes is trending higher and is more attractive for sellers in the current phase. The shortage of supply and an increase in the demand for housing will push the prices higher.
Getting insight from a trusted real estate resource is crucial as we are in unprecedented times. Email me at [email protected]