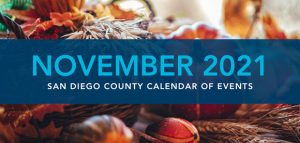 Barrio Logan Dia de Los Muertos Nov. 2
Lively and colorful procession and altars, live music, traditional Mexican pastries and Hot Chocolate which are given out along the route. Join us at 5:30pm, we will have a Private Tour of the Altars provided by Student Planet's Daniel Pozos, enjoy the pre-procession festivities and then go along with the Procession!
5:30-9:30pm / Sherman Heights Community Center
760-877-8300 / www.studentplanettours.com
Fleet Week San Diego Nov. 4-11
Experience one of San Diego's largest Military events featuring Military Displays, High Tech equipment in the Innovation Zone, Active Navy & Coast Guard Ship Tours, Live Music, Food, and Fun for the whole family! Broadway Pier and Port Pavilion, San Diego
619-858-1545 / www.fleetweeksandiego.org
San Diego Beer Week Nov. 5-14
Events are held throughout San Diego County at participating breweries, bars, restaurants, and more! The San Diego Brewers Guild is proud to be a source for breweries, tradespeople, restaurants, and craft beer aficionados. 858-581-7368 / www.sdbeer.com
Bike the Coast Nov. 6
Join riders of all levels and ages while experiencing the best of Southern California beaches and surf towns as you ride routes of 100, 50, 25 on historic Highway 101, or enjoy our family ride on the San Luis River Trail (15 or 7 miles). Everything starts and finishes on the beach at the venue of the Oceanside Pier with food, craft beer, live music, expo shopping and fun. 8am / Oceanside Pier
909-399-3553 / www.bikethecoastsd.com
Carlsbad Fall Village Faire Nov. 7
Over 750 unique vendors with a little of everything: arts & crafts, antiques, unique clothing, items from around the world, and more. Children's rides, an international food center, and an old-fashioned pancake breakfast guarantee that you'll find fun for the whole family!
8am-4pm / Grand Ave. between Carlsbad Blvd. & Jefferson St. 760-931-8400 / www.carlsbad.org
Carrera de los Muertos San Diego 5k/10k Run Nov. 7
Enjoy a scenic run or walk along the San Diego bay and stay to celebrate in the park with mariachi, dancers and comida deliciosa! Join family and friends to remember loved ones who have passed in this rich cultural tradition. You will experience a great sense of community through a little exercise, music, dance, face painting and a lot of fun.
6-8am / Ruocco Park: 585 Harbor Lane
310-821-7898 / www.losmuertos5k.com
Poway Veterans Day Ceremony Nov. 11
Join VFW Post 7907 and the Poway Veterans Park Committee for a ceremony to honor those who selflessly served our Country.
11am / Veterans Park: 14134 Midland Road
858-668-4400 / www.poway.org
Solana Beach Veterans Day Ceremony
Nov. 11
The event is free of charge and open to the public. The City Mayor participates and special guest speakers address the community. Docents from the Civic and Historical Society are on hand to conduct tours of the Solana Beach Historical Museum.
La Colonia Community Center
858-720-2400 / www.ci.solana-beach.ca.us
San Diego Bay Wine & Food Festival Nov. 11-14
Featuring dozens of events, hundreds of domestic and international wineries, the celebration of craft beer and spirits, local culinary legends and nationally recognized celebrities, and a Grand Tasting Finale. Embarcadero Marina Park North www.sandiegowineclassic.com
Poway Valley Garden Club Annual Flower Show & Plant Sale
Come and see a wide variety of dazzling plants and flowers, or express your own creativity by submitting your own entry. All ages are welcome to come and enjoy a fabulous day of gardening ideas, plant sales and more. 9am-3pm / Old Poway Park – Templars Hall
858-668-4576 / www.poway.org
Encinitas Holiday Street Fair Nov. 20-21
450+ booths, plus dozens of unique downtown retailers. Enjoy the music
of popular local bands in The Lumberyard Courtyard and dance, music and
other entertainment on the Community Stage next to Ace Hardware. Take
your young ones to the Kids Zone for a variety of fun activities, and walk
your furry friends into Dog Zone for some treats and special attention.
9am-4pm / Coast Highway 101 between D & J Streets
760-943-1950 / www.kennedyfaires.com/encinitas
Fallbrook Thanksgiving Day Turkey Trot Nov. 25
A fun family Thanksgiving morning to come together with the community to raise money for the Fallbrook Village Rotary Club Foundation while feeling good and creating memories of a lifetime. Our goal is to raise funds for the Fallbrook Land Conservancy, Fallbrook Animal Sanctuary and the Fallbrook Community(s).
7am / Grand Tradition Estate & Gardens
760-731-0529 / www.fallbrookturkeytrot.com
O'side Turkey Trot Nov. 25
Event offers a costume contest, largest teams competition, fabulous live entertainment on the course and finisher medals for all participants. Free digital photos, medals, shirts, and timing to all registered participants. The event has raised over $380,000 for non-profits that serve O'side residents. 6am / Oceanside Civic Center
760-434-5255 / www.osideturkeytrot.com
San Diego Jazz Fest and Swing Extravaganza Nov. 26-28 One of the longest running annual music festivals dedicated to celebrating jazz music of the early 20th Century. Features a variety of musical artists performing traditional jazz, swing, blues, ragtime, boogie woogie, gospel, and rhythm and blues. When it's time for a bite or a drink, the options are abundant, from the unique food vendors in the street fair to the 40+ restaurants and bars in our downtown.
Town and Country Resort & Convention Center
619-297-5277 / www.sdjazzfest.org
Small Business Saturday Nov. 27
Visit all downtowns like Cardiff and Escondido, where you'll find sidewalk sales, local specials, and pop-up shops. A limited-edition print will be gifted to shoppers who make a purchase at certain businesses on Small Business Saturday!
11am-3pm / Cardiff Town Center & surrounding area
760-436-0431 / www.cardiff101.com