REAL ESTATE: WHERE TO LIVE IN SAN DIEGO -SOLANA BEACH, CA- TOP BEACHES IN SAN DIEGO
Not sure where you should live when moving to North county San Diego?
Maybe you want to live near the top beaches in San Diego to enjoy the San Diego weather? The beachside town of Solana Beach may be perfect for you! From the excellent Solana Beach school district, to the solana beach farmers market, Solana Beaches has some of the best beaches for families and in all of San Diego. This is why so many people want to move to Solana Beach!
San Diego is known for its breathtaking 70 miles of coastline and reliably perfect weather. The top beaches in San Diego stand out because they're so much more than attractive stretches of coastline. According to travelandleisure.com, 2 out of their top 5 beaches are located in North County San Diego.  They ranked Solana Beach as their number one rated beach.  Solana beach is a charming, seaside community nestled along the northern coast of San Diego County and is approximately a 30-minute drive from downtown San Diego.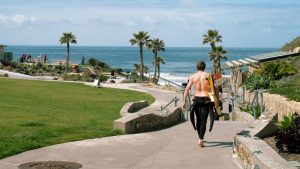 Beaches in Solana Beach
One of the things I love about this town is the ease of biking from beach to beach. On the south end of town you have Dog Beach, which for my golden retriever Brady, is pure heaven.  During the winter months, which let's be real, it's never cold here, is until Memorial day, dogs can run off leash here.  There is truly every kind of dog and if your dog loves to play with other dogs or swim in the water, this is the perfect beach day.  Dog beach also has some epic beach volley ball and I just found beach tennis as a sport.  This is NOT a great beach to sunbathe on, unless you want to be trampled by a pack of frolicking dogs!
Heading north, off of Acacia in Solana Beach is Tide Beach Park.  This is a long stretch of beach that is great to run or walk on.  When the tide is low, there are a lot of tide pools.  Go early to tide pool as it does get busy.
At the north of Solana Beach is Fletcher Cove.  This is where I did my first triathlon- many, many years ago!!!  This beach is great for families because it has a grassy area with a playground and bathrooms.  The park overlooks the beach and there is some nice walkways here to walk along the coastline.  Evenings in the summer you can hear live music at Fletcher Cove and it's great to bring the kids to.  One of my favorite restaurants- Naked cafe– is also right here.  If you go to Naked Cafe, order the morning glory pancakes.  They aren't on the menu any more but they are amazing!
Living in Solana Beach
So what's it like to live in Solana beach? As far as north county beach towns go, this is one of the more expensive places to buy a home.  Homes here range from old beach cottages to mega mansions on the cliffs.  People who live here love the beach, and they also love great restaurants and are willing to pay more to live further south.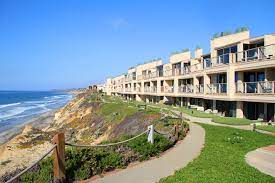 Schools here are some of the best in San Diego.  Solana Vista Elementary ranks 10 out of 10 on great schools.  Imagine, great schools and only 5 minutes to the beach, whats not to love.
The average rent here according to niche.com is 2,232 compared to the national average of 1,062. And the average home price is 1,192,000~  most people who live here either have lived here a LONG Time, like back to the 80's, or sell a home and move to live in their dream town.  
What's it cost to Live in Solana Beach?
With about 3.6 square miles, Solana Beach is a small area, and inventory is tight. This past September, there were only 11 detached, single-family homes on the market, with a median sales price of $1.36 million. In the same period in 2018, there were 20 detached homes on the market at a significantly higher median price of $1.875 million.
Things to Do in Solana Beach
Solana beach has a more urban feel between Coast hwy and Cedros Design District home to walkable restaurants, shops and trails.  Make sure to check out another of my favorite restaurants, Station Sushi.  I've lived in San Diego for close to 20 years, and sushi is one of my favorite things to eat, so I've eaten at LOTS of places.  I will go so far as to say this is my favorite!  Their protein roll is huge, packed with flavor and incredibly fresh.  The restaurant is housed in an old cottage and the food is amazing.
If you like live music, Solana Beach has one of the best venues, the belly up the Belly Up opened in Solana Beach, California, in 1974 with only a couple of mics and no stage. Over the years it became a frequent stop for legends like John Lee Hooker, Etta James, and BB King. Epic performances by Curtis Mayfield, George Clinton, The Neville Brothers, and Toots and The Maytals also are a part of the club's early legacy. Since then, many artists have stopped by on their way up the ladder, including No Doubt, Black Eyed Peas, Mumford and Sons, Childish Gambino, and many many more.
Major artists have done underplays at the venue in recent years, including The Killers, The Red Hot Chili Peppers (who also played the club for 200 people in 1985), Jimmy Buffet, Willie Nelson, Ben Harper, Damian Marley, and Tom Jones. And, perhaps most famously, the Rolling Stones played a private event here in 2015.
The Cedros Design District (named for Cedros Avenue, the street that it's located on) has over 85 different art galleries, boutiques, other small shops, and cafes. The Sunday farmers market is small but packed with great farmers and is a fun place to eat lunch. Some say that there's absolutely nothing that you can't find for sale (obviously, within reason, of course) for sale in this area. It's a local shoppers paradise.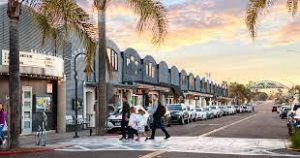 If you want more find out if Solana Beach is the place for you to call home, or if you are looking for some fun things to do text me anytime I have people reach out all the time about moving to Solana beach and I love to share this beautiful beach town with them.  All my links are below!
Get in Touch: