Welcome to my monthly Guide to Buying a San Diego Home! After doing this for hundreds of clients, I know how the process of buying a home in San Diego can overwhelm people. My job is to educate people to help them feel safe and knowledgable about the home buying process.
Today I am covering:
Why should you buy a home in San Diego
Why you shouldn't buy a home in San Diego
Who should buy a home in San Diego
And- Bonus Material – Fixer Uppers vs Move-in Ready homes for sale in San Diego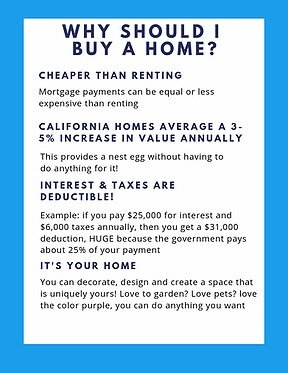 Many renters find out that owning a home is actually cheaper than renting. Because of the tax write off at the end of the year, your annual payment may come out even lower owning a home in San Diego, than paying rent. Plus you will be gaining valuable equity that your landlord would otherwise be earning off of your rent!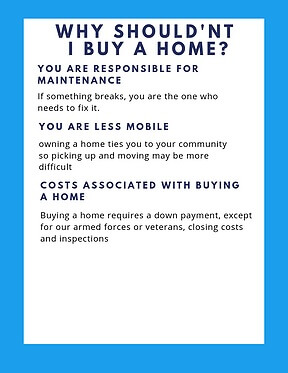 Some people think Realtors only goal is to sell them a home. That's just not true. As a realtor who is focused on what my client's needs and goals are, sometimes buying a home is NOT a good idea. If you are someone who likes to move a lot, or just doesn't want the responsibility of maintaining a home, then buying may not be for you.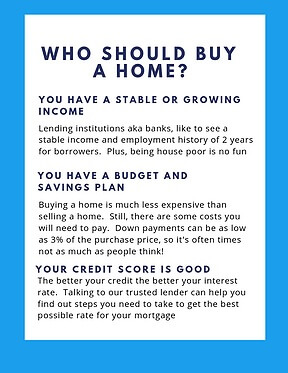 So, how do you know if you are ready to buy a home? Mortgage banks look for stable people with good credit and an employment history of at least 2 years. You will also need some money in the bank for your down payment and closing costs. Being strapped for cash when you close on your home is not fun, so make sure you have a budget and can stick to it!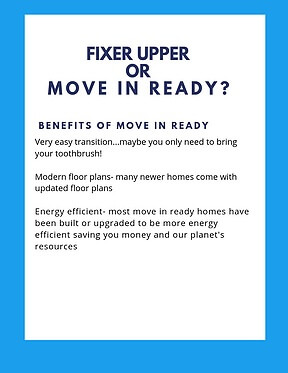 This is truly a personal choice. There are many reasons why a fixer-upper appeals to people, one being the cheaper cost of purchasing a home. Just make sure you have a good guide to help you figure out what reserves you will need to turn this home into your dream home!