If you're looking to buy or sell a house, chances are you've heard talk about today's rising home prices. And while this increase in home values is great news for sellers, you may be wondering what the future holds. Will prices continue to rise with time, or should you expect them to fall?
This week I'm taking a boots on the ground approach to our housing market update. Is the market finally taking a turn? After over 114 months of straight craziness, the market will shift, but when?
In San Diego over the last week, I have seen the real estate market come to a stand still.  Homes are on the market longer than they have been since the pandemic began and price reductions are becoming common.
Experts agree, the market will face some headwinds in the months ahead. With the Federal Reserve set to taper starting in November, interest rates will likely climb further before the end of the year. Meanwhile, supply will shrink as the holiday season begins, and new housing developments could slow as labor and material costs rise.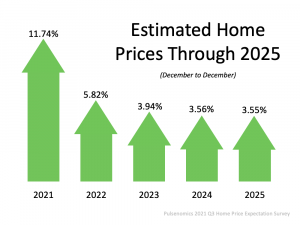 As the graph above shows, prices are expected to continue to rise, just not at the same pace we've seen over the last year. Over 100 experts agree, there is no expectation for price depreciation. As the arrows indicate, each number is an increase, which means prices will rise each year.
Bill McBride, author of the blog Calculated Risk, also expects deceleration, but not depreciation
What Does This Deceleration Mean for You?
What experts are projecting for the years ahead is more in line with the historical norm for appreciation. According to data from Black Knight, the average annual appreciation from 1995-2020 is 4.1%. As you can see from the chart above, the expert forecasts are closer to that pace, which means you should see appreciation at a level that's aligned with a more normal year.
If you're a buyer, don't expect a sudden or drastic drop in home prices – experts say it won't happen. Instead, think about your homeownership goals and consider purchasing a home before prices rise further.
If you're a seller, the continued home price appreciation is good news for the value of your house. Work with an agent to list your house for the right price based on market conditions.
Experts expect price deceleration, not price depreciation over the coming years.
Let's connect to talk through what's happening in the housing market today, where things are headed, and what it means for you.
TEXT: 760-310-0166