San Diego Housing Market Update and Housing Market Update for Week of November 29, 2021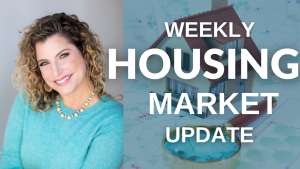 On the national housing market update according to Realtor.com After two weeks of gains, new listings dipped 2% below year-ago levels in the last full week before Thanksgiving. This shift has intensified some hallmarks of competition relative to last year: homes sold 11 days faster and there were 27% fewer listings available for sale. One indicator that didn't shift, however, is price growth. It remains in the relatively narrow range we've seen over the last few months, one small bit of relief for buyers. 
With homes continuing to sell rapidly and at a high level, the number of homes available for-sale is a limiting factor for many buyers, and seemingly paradoxically may also be a limiting factor for sellers. With as many as 1 in 4 homeowners choosing not to sell saying it's because they can't find a home in their price range, the housing market's inventory woes trouble buyers and potential sellers. However, an improvement could be on the horizon, with more homeowners planning to sell their homes in the next 6 months and single-family home construction continuing at 1 million+ pace.
Homeowners are Planning to Sell in 2022
Realtor.com completed a recent survey data suggests that a growing share of homeowners are potential sellers, eager to find new homes. 
In September and October, we surveyed 1,300 consumers about their homeownership status, and found that 26% of homeowners surveyed plan to sell their home in the next 12 months. Younger generations seem to be more eager to sell as 34% of Gen Z homeowners and 49% of millennial homeowners plan to sell, while only 26% of Gen X homeowners, 11% of Baby Boomers, and 8% of the Silent Generation plan to do the same. Interestingly, 29% of Gen Z homeowners and 54% of millennial homeowners have also sold a home in the last 6 months, compared to 22% of all homeowners, and only 4% of Baby Boomers and 3% of the Silent Generation homeowners. Selling is more popular in urban areas, with almost half (46%) of urban homeowners planning to sell while only 19% of suburban and 11% of rural homeowners plan the same. 
About half (46%) of homeowners plan to sell in the next 3 months. Younger homeowners seem especially eager to sell with 31% of Gen Z homeowners and 38% of Millennial homeowners planning to sell in the next 30 days. The majority of the Silent generation (84%) plan to sell in 2022, as well as 42% of both Gen X and Baby Boomer homeowners. In anticipation of selling, 93% of sellers surveyed have taken steps to prepare.  
If realtor.com is correct, we could see a lot more homes come on the market in 2022 than we have in years.  This could help our housing market to stabilize into a more normal market showing appreciation at 5% instead of 20% and allow more homebuyers to afford to buy a home.  If you are thinking of selling your home- you may want to start getting ready now so you can list before all of the other home owners thinking of selling flood the market
Median prices are up 11.6% and new listings are down 2%—this is the first time since the pandemic we are seeing some seasonality to our housing market
In employment news, the number of new unemployment claims for the week fell to not only the lowest level since the pandemic, but also the lowest weekly level in 50 years.  The total number of people receiving government benefits also fell to a post pandemic low indicating more people are going back to work.
Mortgage Rates
Bad news on the mortgage front: The interest rate on a 30-year fixed-rate mortgage jumped to 3.705% today, an increase of 0.055 percentage points from the average rate before the Thanksgiving holiday. The rate for a 30-year refinance loan was also up, increasing to 3.846%. Most other loan types are seeing higher rates as well.
Now with Omnicron being so unknown, it will be important to watch mortgage rates very closely if you are thinking about buying.
To end this week's update let's look at Redfin.com's 2022 housing prediction…
a housing crash in 2022 look very unlikely, prices could actually go even higher. At least that's according to Redfin's 2022 real estate outlook, which foresees prices continuing to climb next year.
That said, Redfin does forecast that the rate of home price growth will slow—by quite a bit. By the end of 2022, the real estate brokerage predicts 12-month home price growth will be at 3%. If that rate comes to fruition, it'd mark a 16.9 percentage point drop from the current level of price growth. It'd also mean the housing market would shift from a historic housing boom into a more normalized market where would-be buyers might actually have some time to think through their purchase.
Read Next: Should You Buy Now? Or Wait?
Tristen Campanella is a top selling San Diego Realtor with a focus on North County San Diego.  Her unique buying and selling process has helped hundreds of clients get proven results, saving them time and money, and guarantees our client's peace of mind.
Tristen's top priority is integrity and honesty. Her valued perspective and highly personal approach has won her client's trust. Through her thorough, competent and experienced representation, she delivers impressive results. She is extremely attentive in providing communication about the important details of the transaction and responds quickly to her client's needs. She is an aggressive negotiator to ensure her clients receive the best price and terms for them.