Ah, becoming a home owner! Still one of the American dreams. And rightly so! Did you know home owners net worth is 45 times greater than a renter according to a recent Forbes Article?
The question then becomes, should you buy now, or wait to purchase a home? This is probably one of the biggest questions I get from my clients. Let's take a look at the pros and cons of both waiting to purchase a home and purchasing a home now.
Reasons People Think it is a Good Idea to Wait to Buy a Home in San Diego
Question: The market will soften or collapse like it did in 2008
Answer: While this is always a possibility, if you look closely at home prices over the last 10 years and factor in the downturn, you will see that home prices still continue to rise. Could the market crash? Sure! Is it likely to see a crash like before? Probably not. Our lending requirements have gotten so strict that we no longer give out loans to just anyone, which greatly decreases the chance of people unable to pay their mortgage.
Question: Am I buying at at the "height" of the market.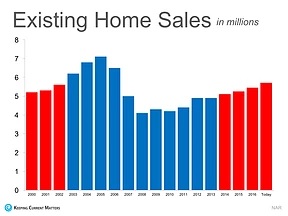 Answer: This is a bit like the previous answer. Home ownership is not a short term, "get rich quick" plan. It is a 5-10 year, or longer, investment strategy. So again, looking at the graph below, you can see that over a 10 year span, and taking into consideration the cycles of the real estate market, home owners still gain equity.
Reasons to Buy a Home in San Diego Now
Mortgage Interest Rates are still historically low.
Looking over the last 10 years of mortgage interest rates, we can see that we are still historically low in comparison. By waiting to purchase you risk increasing your payments up to $64,000 over the life of a 30 year loan.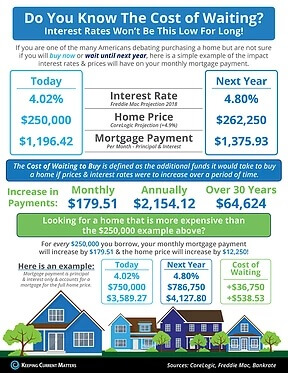 Home Prices Will Continue to Rise
Over the next 1-2 years, we expect housing prices to continue to rise. This is mostly due to the lack of inventory of homes. Less homes on the market equals home sellers ability to charge more for the home they are selling.
Bottom line: If you need to wait to purchase a home for reasons like improving your credit or saving for a down payment, plan ahead accordingly. If you can purchase a home in San Diego this year, it is a wise idea to do so.
Questions or Comments? Reach out! Email me or Text 760-310-0166
About Tristen: Tristen is a Local North County San Diego Realtor who specializes in First Time Home buyers, Military home Buyers, VA Loans, First Time Home Sellers, and Relocation.